Instead of going on and on about how I'm horrible at styling spring outfits, I'm taking today to be positive about this difficult season.  Why?  Because dresses make me happy and all these spring dresses have me crushing.  Not only are the below picks my favorite spring dresses I've found (so far), but these categories are what I'm keeping my eye on.  Options to get through spring events and also help with the summer wardrobe.
The Basics
Can you even survive spring and summer without a couple basic dresses?  I think not.  I'm all for keeping a denim dress in your closet at all times.  And since finding this Madewell number, I feel the need to add another to my own.  As for a simple v-neck solid color dress, why not?  I could list off places to wear it all day long.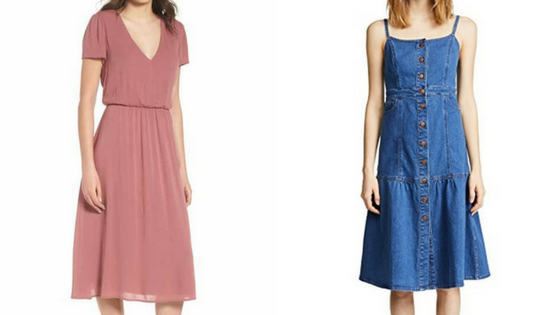 The Stripes
I shared a pair of striped pants on my Facebook page last week and I'm now drooling over all striped dresses too.  I've always been drawn to the classic black and white stripe, but these color options are amazing for spring.  Pair with white booties or nude wedges and you have a fun night out look.  Or add a pair of flat sandals for an easy daytime outing.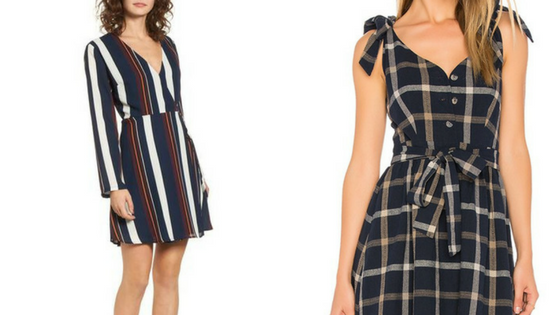 The Spring Prints
I have actually been staying away from prints lately (stripes don't count), but of course, this spring has rocked in the floral dress category.  You know what else has rocked?  Polka dots!  I'm officially on the hunt.  You'll see this exact polka dot midi dress everywhere because it's selling out so fast on Shopbop.  But the floral pinafore number is something different.  And a piece I will definitely be trying.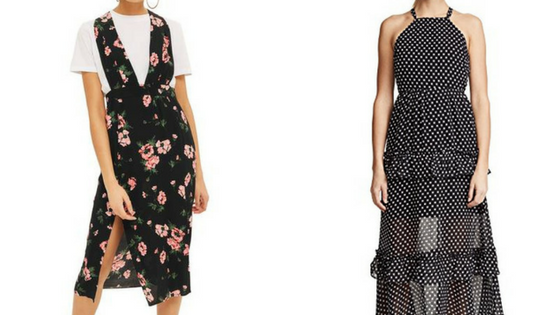 What trends are your favorite for spring dresses?  Shop all above and a few extra in widget below!