What's the most exciting thing to happen during the month of March?  Well, minus all the hype around college basketball.  St. Patrick's Day of course.  I grew up in an Iowa small town founded by the Irish, so it's a pretty big deal back home.  A week full of activities and community events leading up to a weekend-long street party.  Around March 1st, people start chattering about the exciting holiday and since festivities are this weekend, I've got a recipe to help celebrate.  When I think of the Irish, I think of potatoes.  When I think of St. Patrick's Day, I think of pubs.  So, what do you get when you combine the two?  Irish Nachos – aka, Idaho nachos, or simply sliced potatoes smothered in toppings.
Most potato nacho appetizers have fries or something fried as the base, but in my homemade recipe, I opted for baked.  Healthier (not that we're concerned about that with nachos) and simpler.  These Irish Nachos are seriously simple.  The hardest part – slicing.  I have a mandoline slicer which makes the process easier, but you can also slice with a good knife by hand.  Just be careful either way!  My finger may have grazed the mandoline while slicing and let's just say, I'll be a heck of a lot more cautious next time.
Back to the food…
…my personal pet peeve when it comes to nachos is the bare chips (or fries) on the bottom.  So when I started this recipe, I decided to add toppings in layers.  And besides pretty much always wishing for more cheese, it worked like a charm.  Cheese, two meats, sour cream & green onion make T and I pretty happy in the toppings department, but it's easily modified.  This was an experimental recipe for me, but they turned out pretty great.  The full recipe is below & in my typical cooking style, measurements and ingredients can absolutely be switched up to your liking.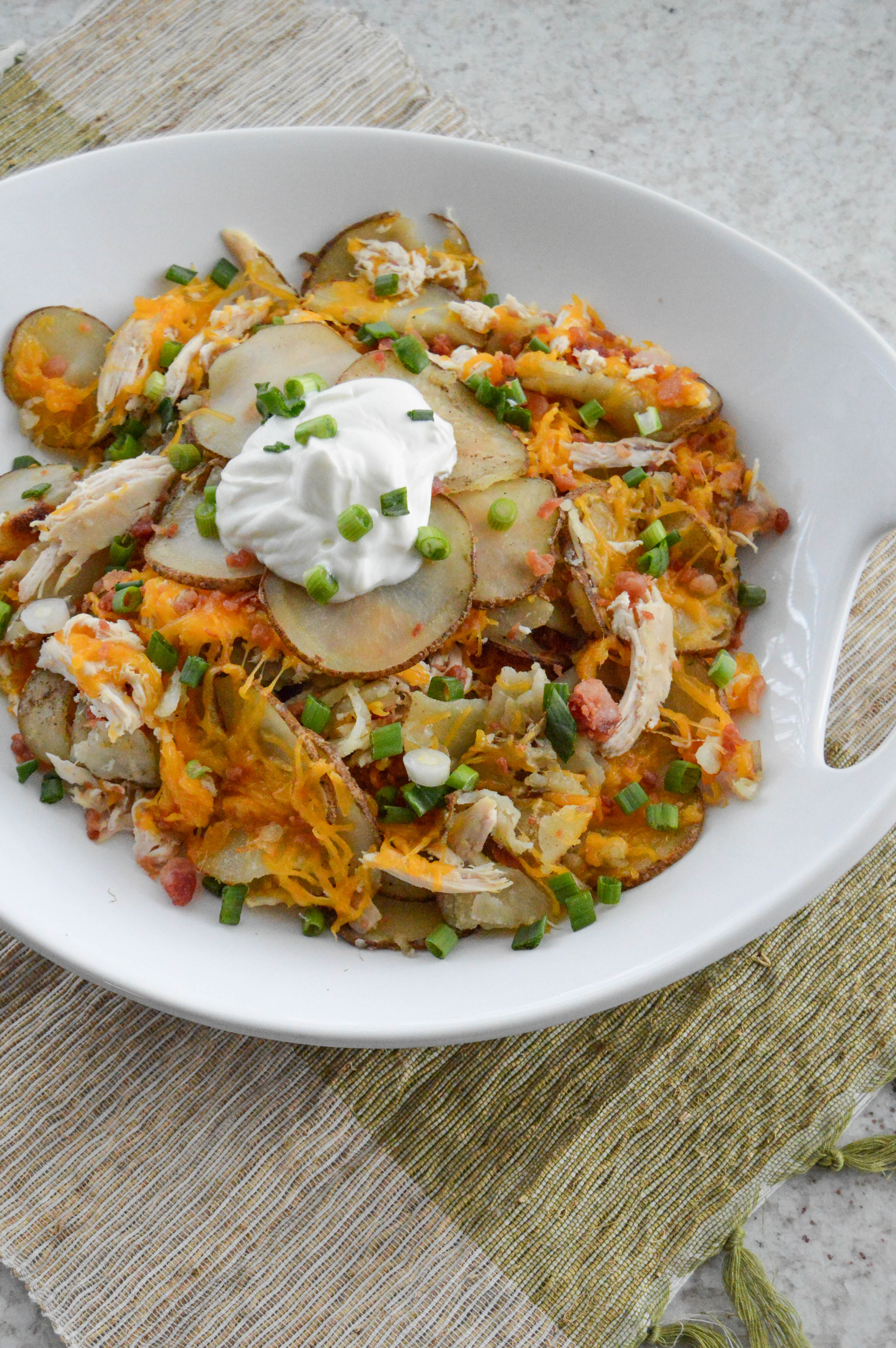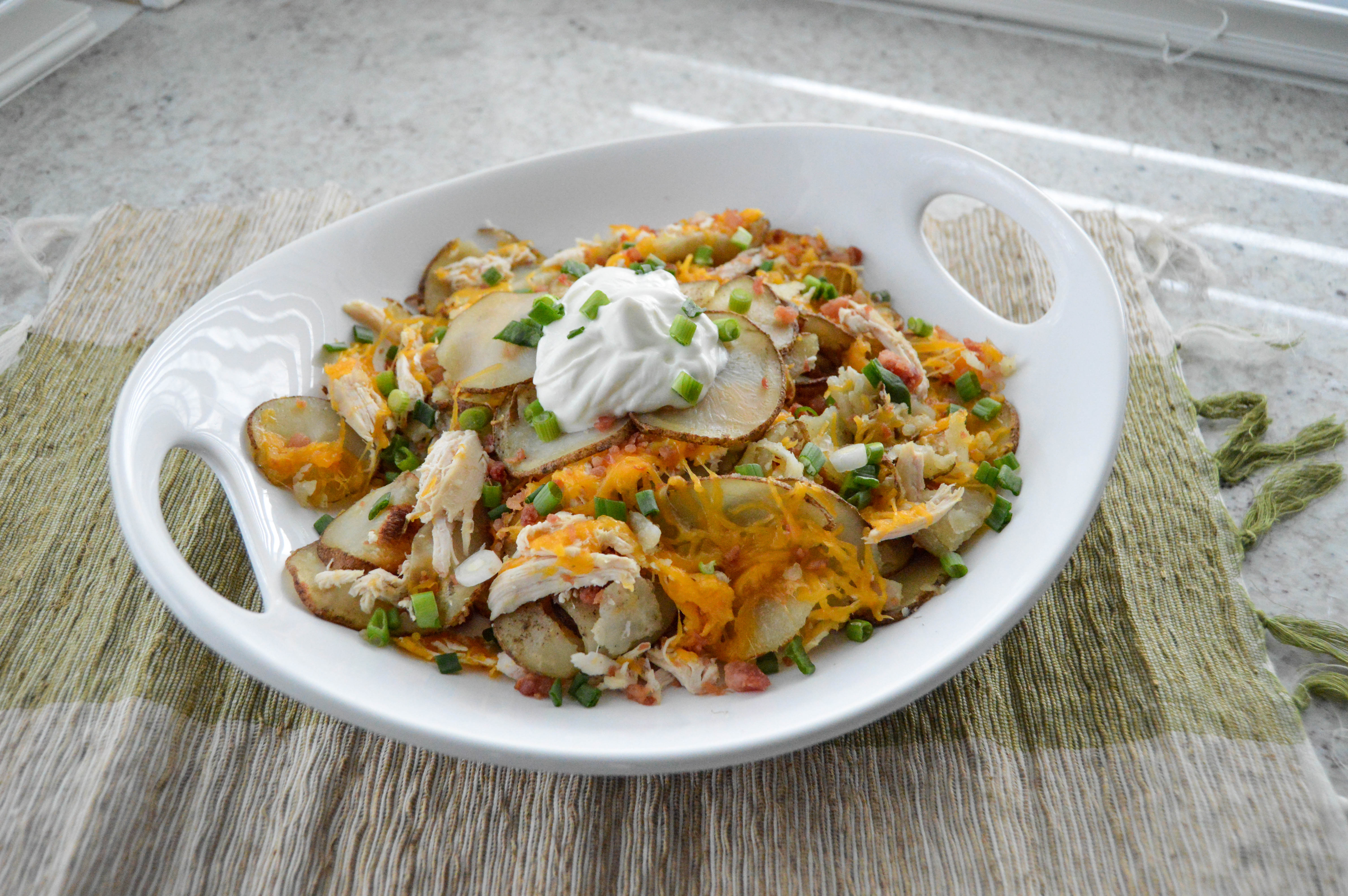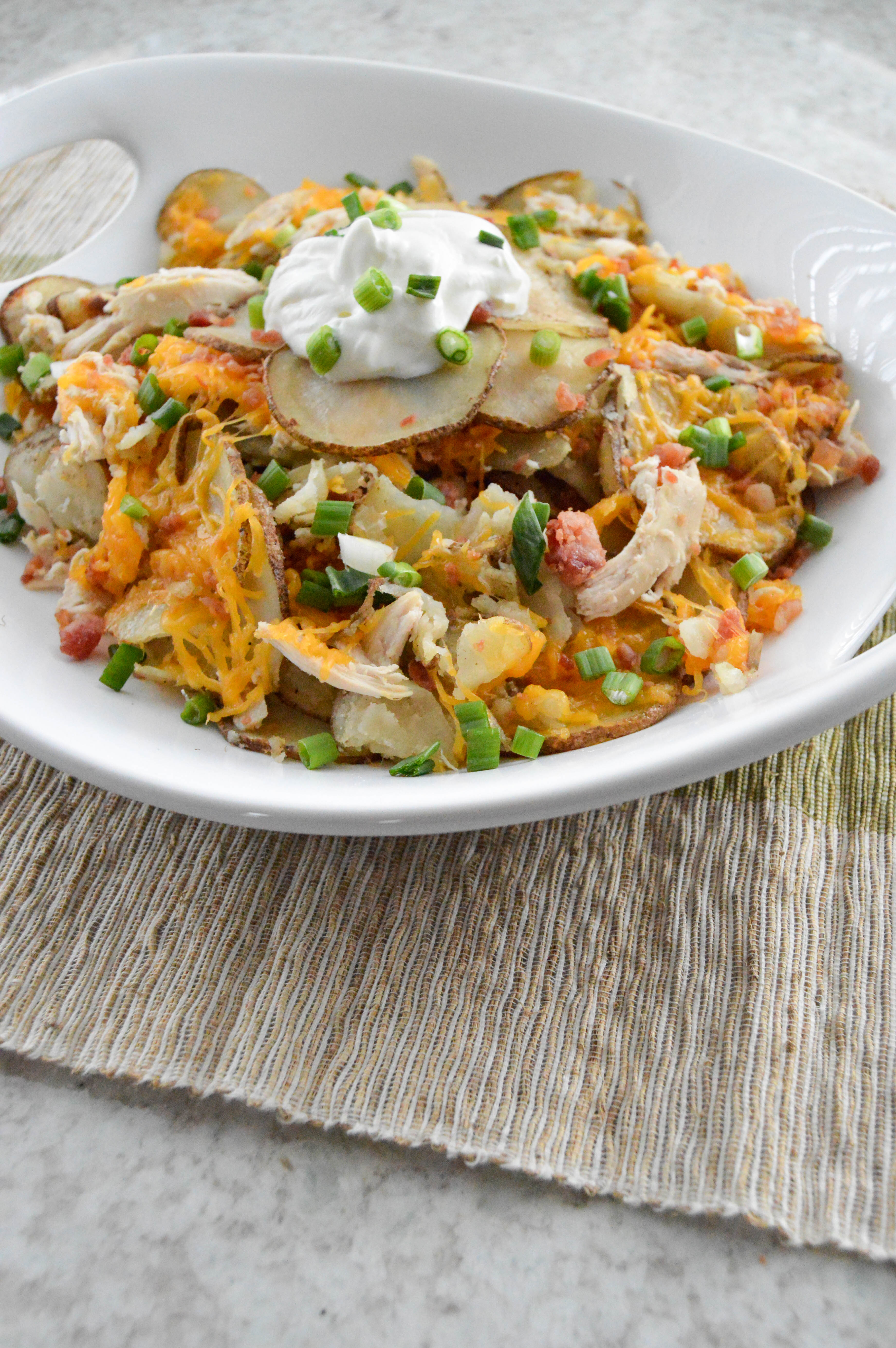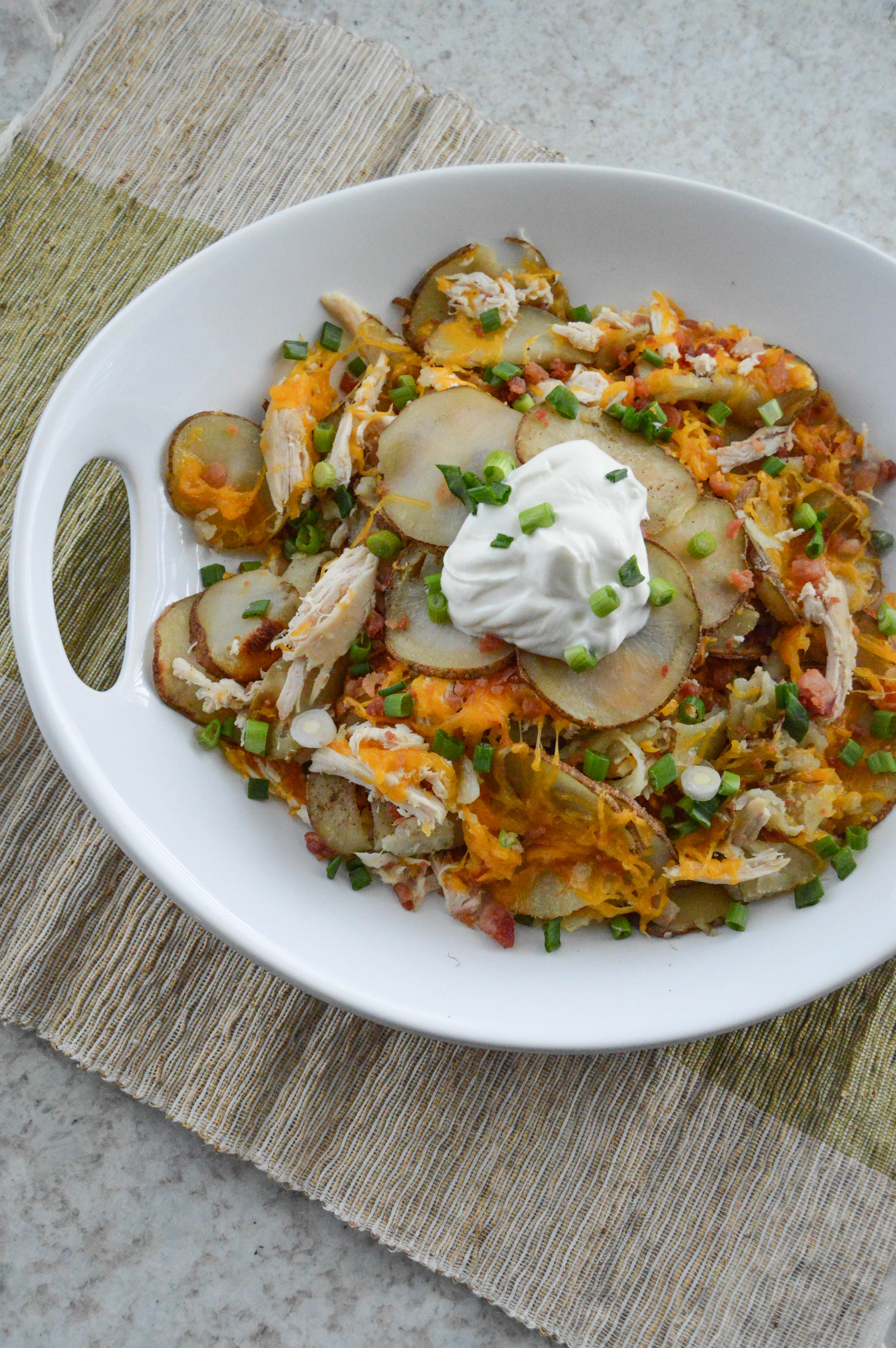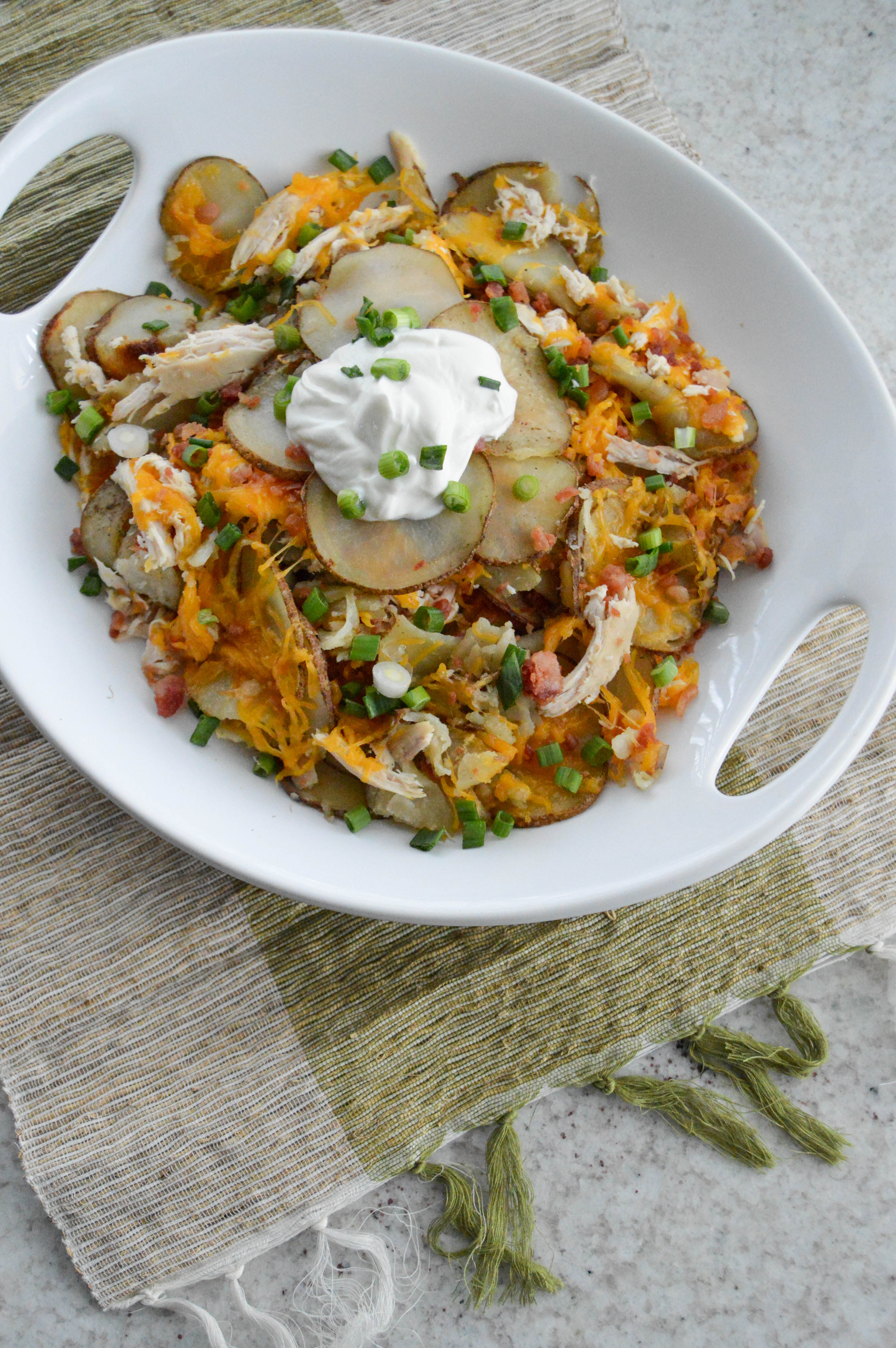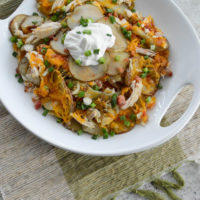 Irish Nachos
Ingredients
4

medium russett potatoes

1.5

cups

shredded cheddar cheese

1

pkg

bacon bits

1

cup

shredded rotisserie chicken

olive oil

salt

pepper

garlic salt

green onion

sour cream
Instructions
Slice potatoes thin - mandoline slicer works best, but you can also do it by hand

Drizzled slices with olive oil to coat & sprinkle on salt, pepper, and garlic salt. Be generous, depending on thickness of slices

Place slices on cooking sheet & bake at 400 degrees for 30-40 minutes, or until slices are cooked through. Flip them halfway through baking.

Once potatoes are done, transfer to smaller baking dish, layering potatoes, chicken, cheese and bacon bits. Repeat until potatoes are gone.

Place dish back in the oven for 5-7 min, or until cheese is melted.

Top with sour cream & green onions (and any other topping choice) and serve!
xoxo.  a