If there's one thing in our monthly rotation of recipes that T and I never get sick of, it's homemade chicken fried rice.  I stumbled on a recipe online years ago, fell in love with it, and have since customized it to our taste buds.  We've had no luck finding good Chinese delivery in our neighborhood and after yet another recent bad experience, I was thankful to have this homemade recipe to satisfy our craving.  I mean, how disappointing is a bad delivery meal?  The worst.  So, I promise, this homemade chicken fried rice truly beats takeout… at least until we get a better recommendation!
The original recipe (wherever I found it) had the portion of rice much larger compared to the portion of chicken.  Over the years, I kept testing different amounts of rice with more or less veggies and chicken and I've finally found the sweet spot where T and I are both happy.  Considering our different preferences, I've officially added an additional egg to the mixture, used less rice, added more chicken and the peas and carrots depend on how much I have in the freezer.  The more, the better in our house.  And this is the true beauty of a stir-fry style recipe – you can add, delete, add, delete until you're in love.  Next time, we're adding baby corns and maybe after that, we'll skip the peas and use water chestnuts.  Who knows!  Things might get crazy.
The recipe itself has quite a few steps, but all the elements come together rather simply.   By the end of it, I guarantee you'll be amazed at how easy and simple this really is.  Also, the portion size is great – enough for leftovers!  I love to make this during a busy week because the second day is just as good as the first.  One meal for two nights?  Sold.
Homemade Chicken Fried Rice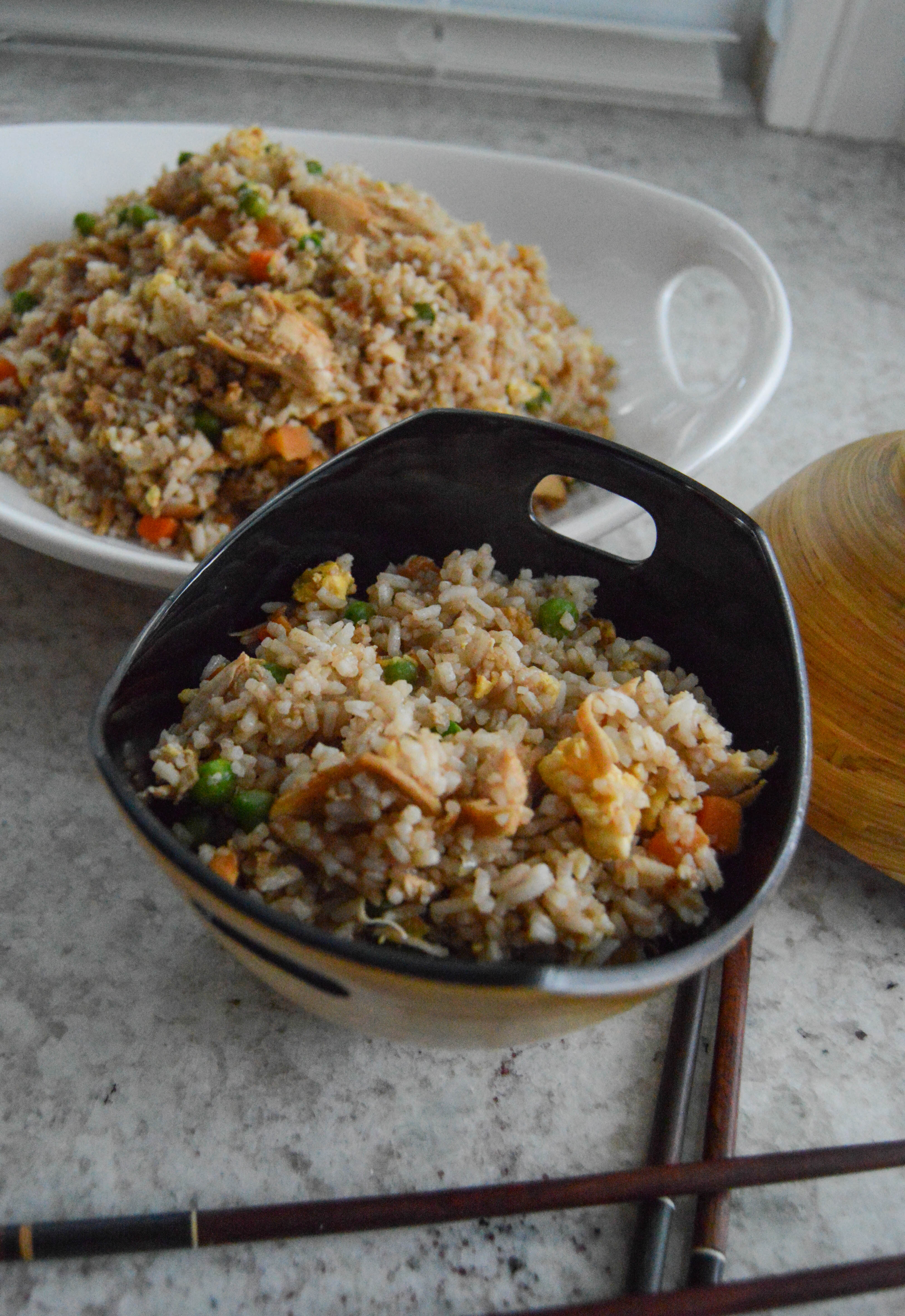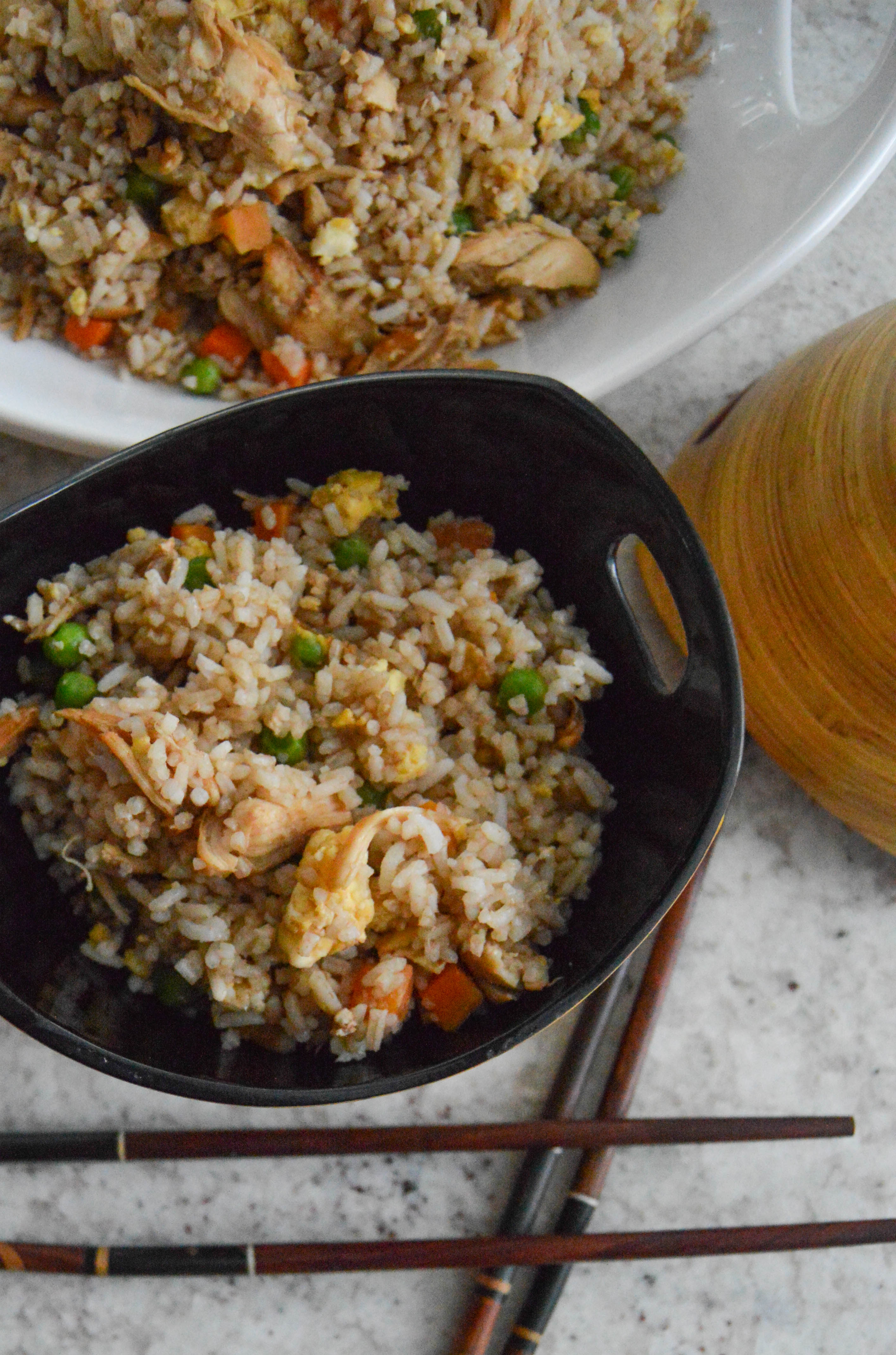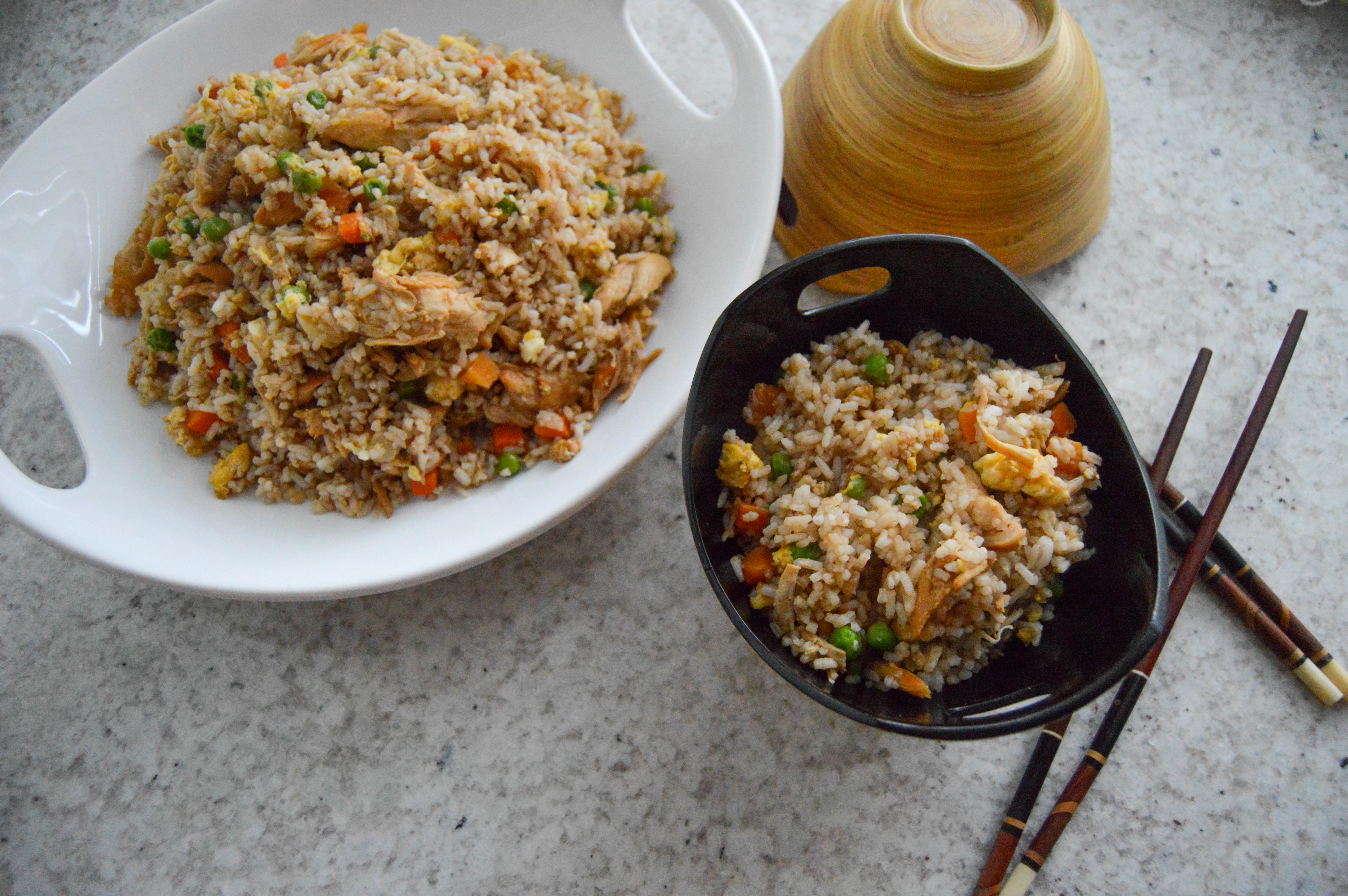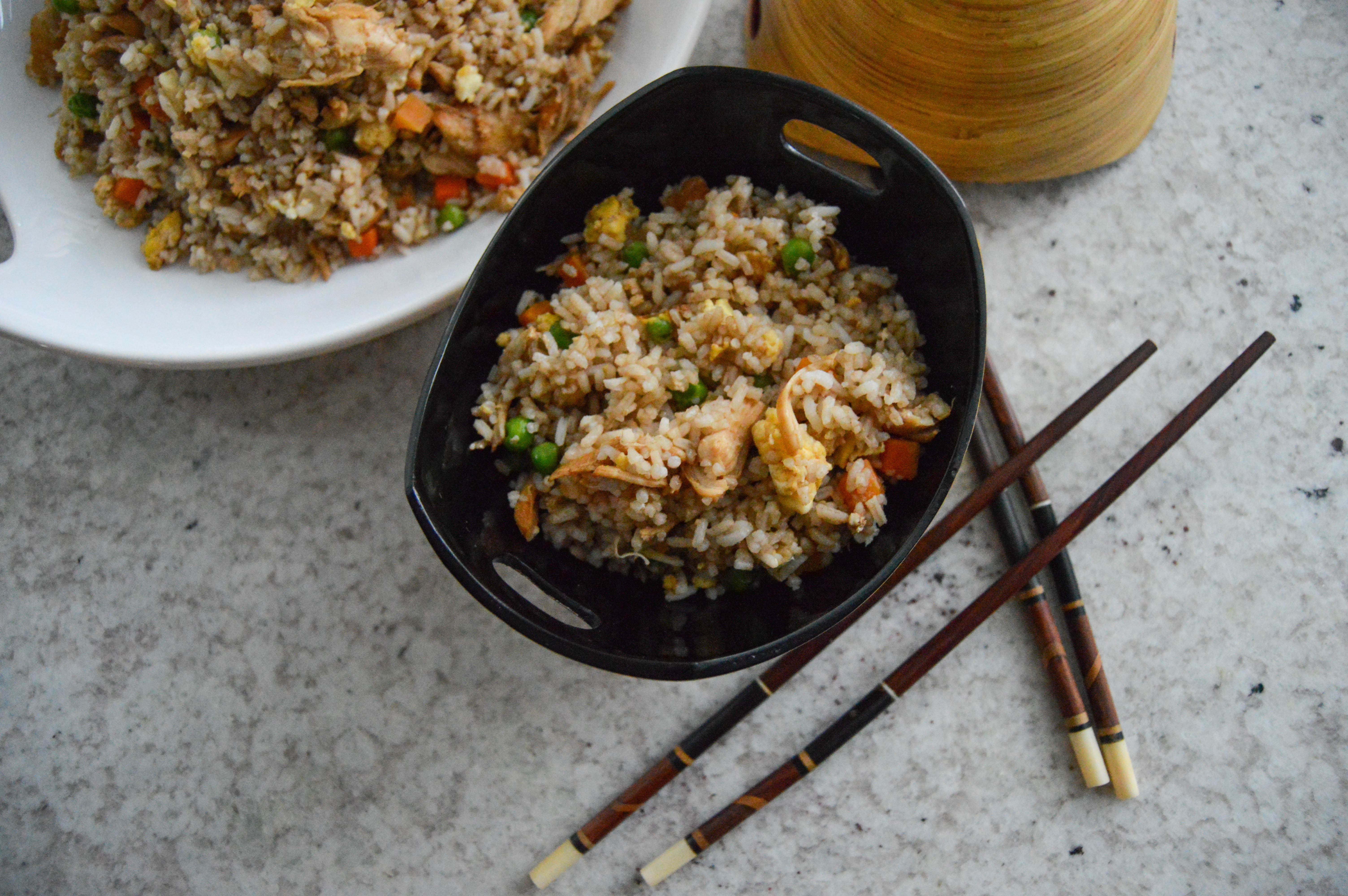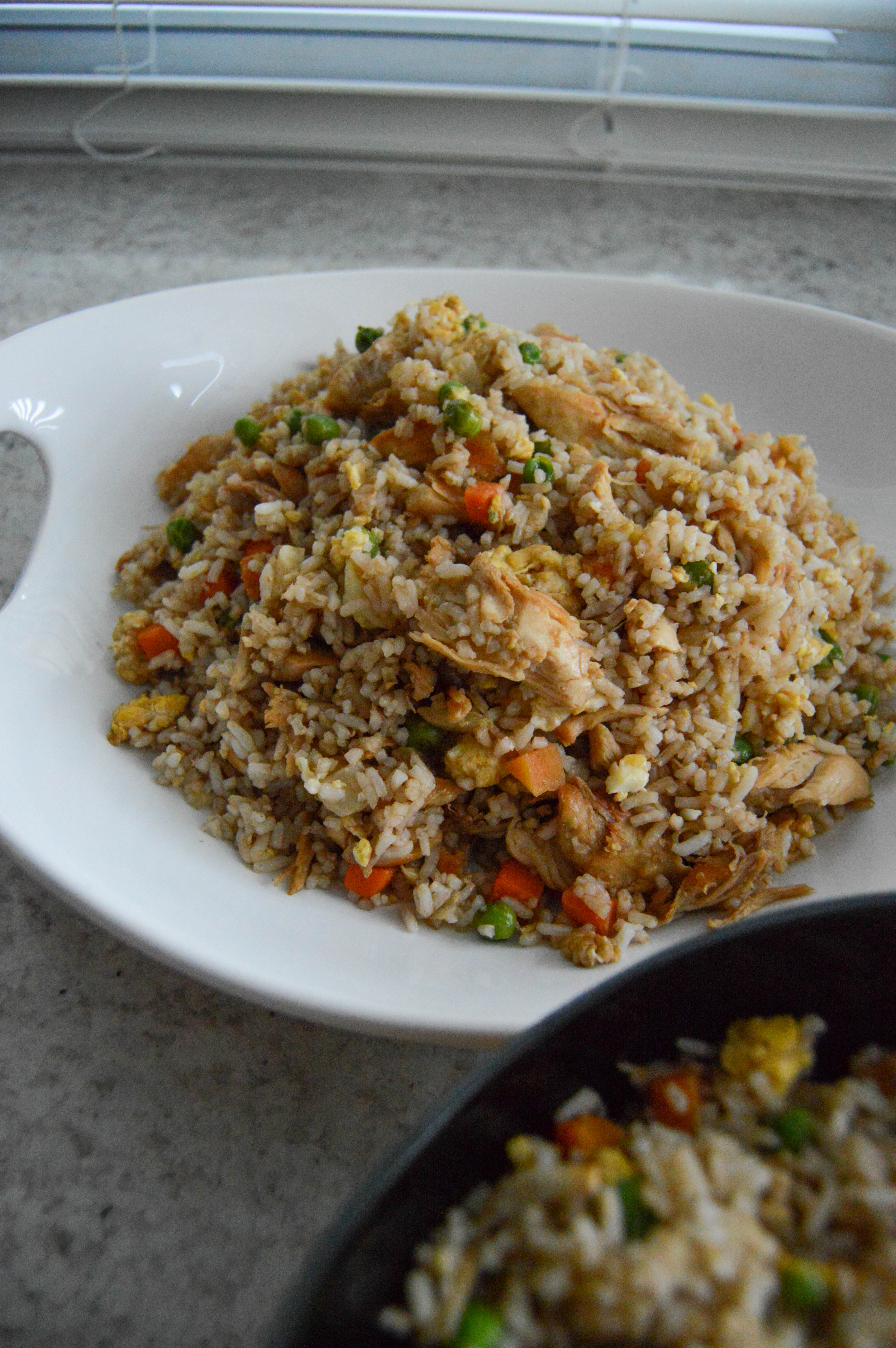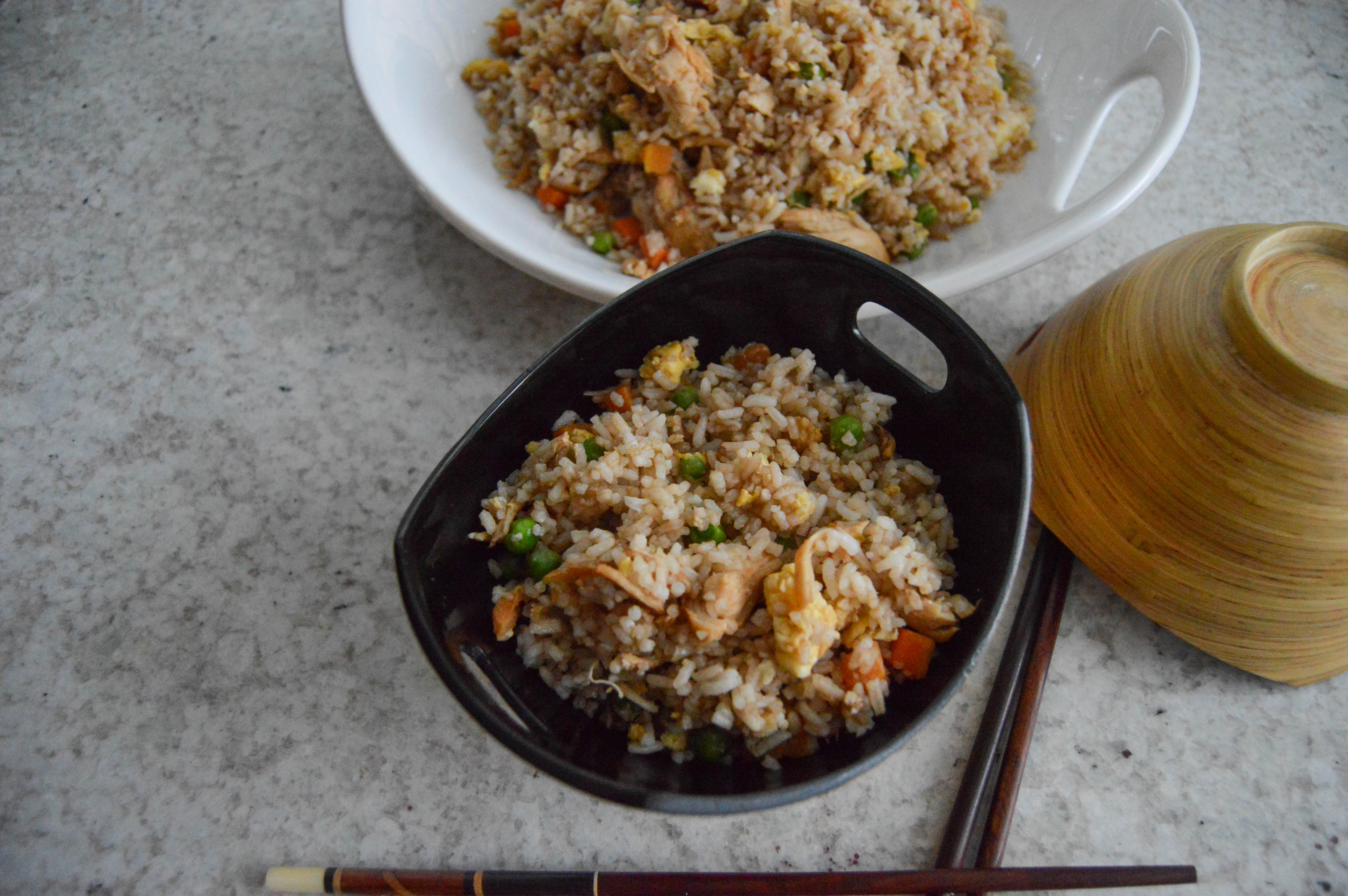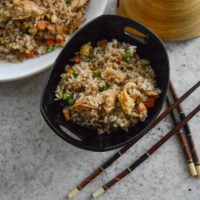 Homemade Chicken Fried Rice
Ingredients
2.5

cups

white rice, prepared

1

lb

chicken, cooked & shredded

1

heaping cup

frozen peas & carrots

1

white onion, chopped

2

cloves

garlic

3

eggs

3

tbsp

sesame oil

1/4

cup

soy sauce
Instructions
After white rice & chicken are prepared, heat sesame oil in large skillet on medium heat.

Add onion, garlic, peas & carrots. Stir fry until tender.

Make circle in middle of veggies - crack eggs into pan and scramble. Once cooked, mix them throughout the rest of the veggies.

Add rice and chicken to pan.

Stir in soy sauce and remove from heat.
Recipe Notes
This recipe is easily modified to your preferences, so have fun!
xoxo.  a