If you're following my Instagram, you know November is a busy month at our house.  Between traveling, our anniversary, my birthday and ordinary life, the month keeps flying by.  But, we've settled down a bit since getting back from Toronto, and I am officially planning for the holidays.
On that note, can we take a minute and enjoy Thanksgiving before Christmas takes over the last four weeks of the year?  Trust me, walking the isles of Target yesterday made me so anxious to set up our tree and start wrapping presents, but Thanksgiving is such a great holiday and we shouldn't let it fall by the wayside.  And yes, it's my favorite holiday because the whole day is reserved for food and family.  Does it get any better?
Since the holidays will be in full swing by next weekend, I've been outfit planning like crazy.  Family events, office parties and friendly get-togethers are always plentiful this time of year and the right outfit makes them even more enjoyable.  The Midwest has been blessed with the most amazing fall weather lately so skirts and lace-up tops can still be worn without leggings and a big coat.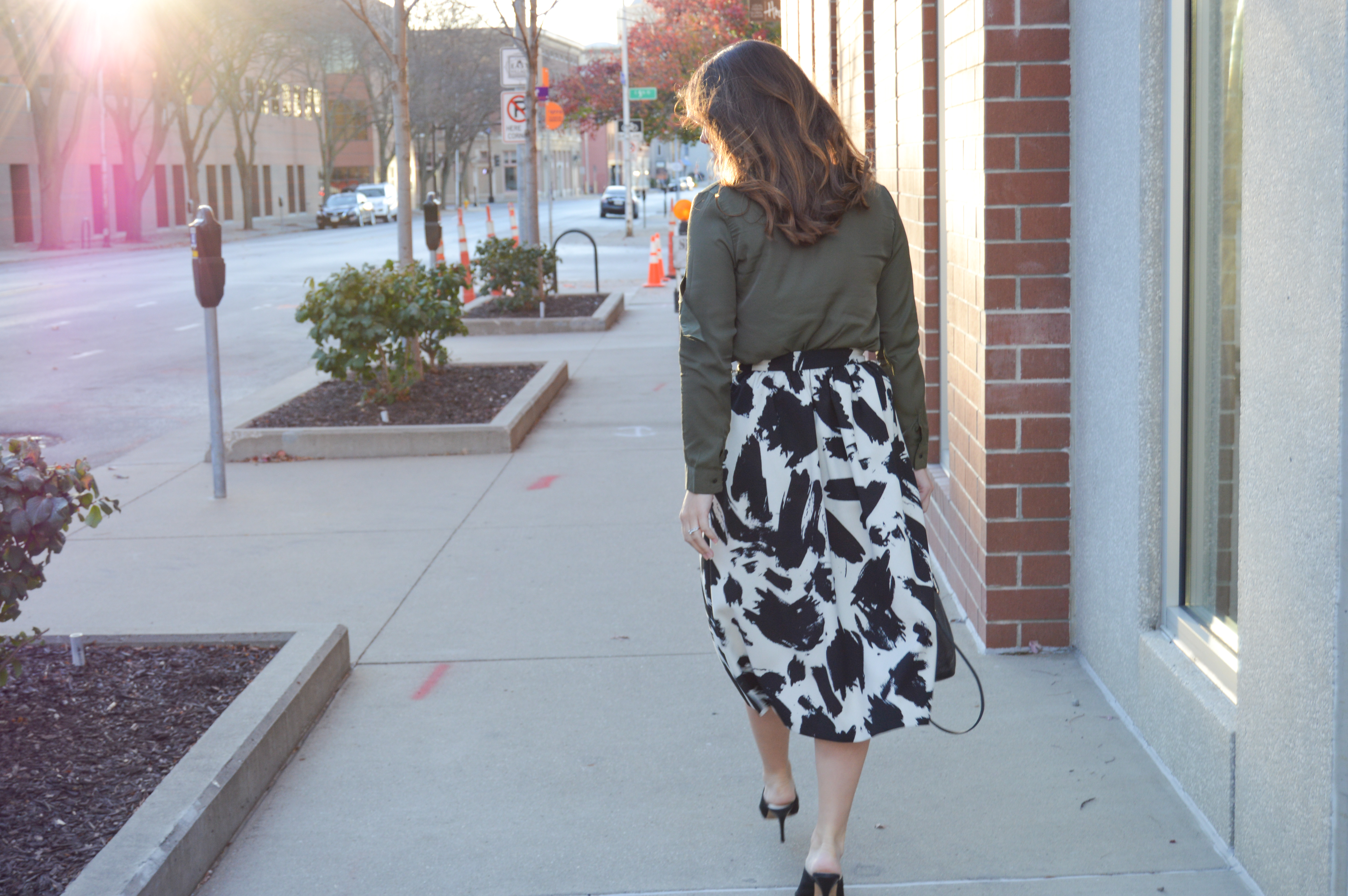 I love this look for a dressy Thanksgiving event, an office party or cocktail hour with the girls.  The Romwe lace-up top is a beautiful army green color, perfect for this time of year.  Pairing the muted green with a black and off-white print is unexpected but fun mix up on an otherwise formal look.
Any Catt Sadler fans out there?  I fell in love with this print when Catt donned the dress version on E! News a few years ago.  Instantly obsessed, I immediately recognized the paint brush print while going thru racks at H&M.  Shocked, amazed and in love, I wasn't sure how much I'd wear it but I had to have it.  Turns out the skirt has made more appearances than half my dress closet.  Funny how that works.  Unfortunately, H&M no longer sells the print or the skirt, but I have linked similar midi styles below.
Top: Romwe  |  Skirt: H&M (similar here and here)  |  Heels: Aldo (similar here)  |
Bag: Coach  |
Now let's enjoy the last few days before the holiday rush begins!
xoxo.  a
*Products were received in collaboration with Romwe for this post.  All opinions are my own.