"And on the 8th day, God looked down on his planned paradise and said, 'I need a caretaker'.  So God made a farmer." –Paul Harvey, 1978
There are few words to describe the beauty of a harvested, bare field and there are even fewer words to describe the love a farmer has for his land.  Even though I rarely hear expressions of pride in my dad's humble conversations, his feelings are palpable year round while sowing the seed, tending to the ground, and harvesting the crop.  Intangible, yet seen in his eyes when watching the sun beam across tall stalks of corn or shown in his worry when hearing a rumble of thunder if rain isn't needed.  And during harvest, he can finally reap the benefits of all his hard work.
After a short spring of planting and a long summer of watching the seeds grow, farmers get back in the field to gather their crops.  Many hours, late nights and early mornings later, the fields will be bare, awaiting a blanket of snow until spring when the circle of plant life can begin again.  Our Midwest family farm grows the common seed – corn and soybeans – which can be sold and shipped off for use in a variety of products.  Corn mostly used for animal feed and ethanol, soybeans also going into animal products, but used for oils and proteins as well.
Growing up, I always knew what my dad does is important, but the older I've gotten, the more aware and appreciative I've become of our family farm. I recently read an article by a favorite blogger, Excessories Expert, exploring the idea of consciousness and how our fast-paced society has a tendency to forget our every day products don't simply appear.  The shirt on your back, food on your plate and gas in your car all come from somewhere or someone who's working day and night for your convenience.  Coming from the Midwest where fields of produce surround our daily lives, it's hard to imagine this ignorance.  Even on the days when I don't think twice about picking up a Starbucks soy latte, I'm quickly reminded on my drive back home that nothing is given without someone's hard work.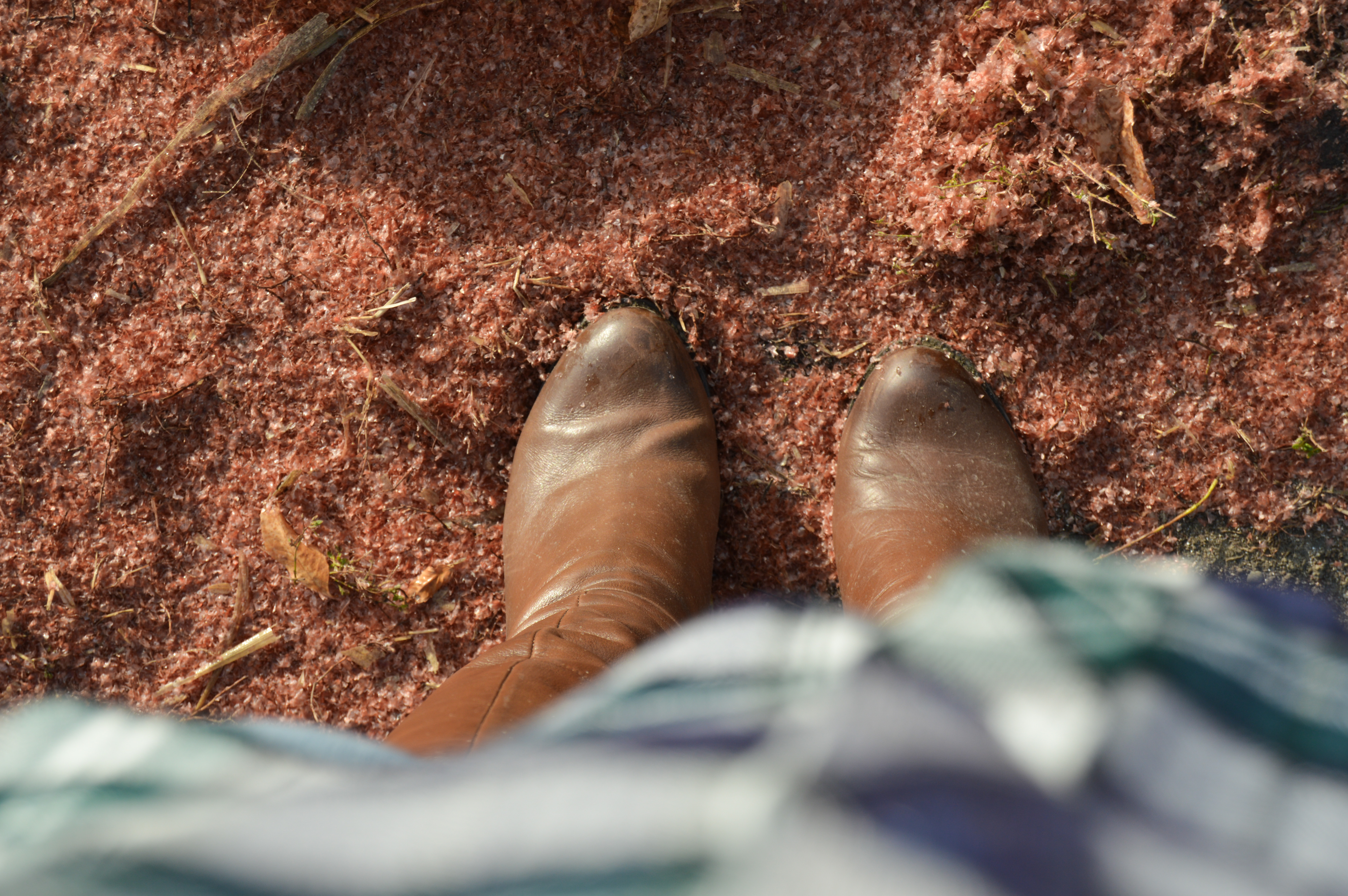 I can only imagine the feeling of accomplishment for farmers at the end of harvest – finishing a job only meant for the strongest.  The most patient and the most caring.  But farming is never really finished.  Following in the direction of Mother Nature, the seasons will change, new seeds will be sown and the countdown to the next harvest begins.
I'm proud of my dad, my brother and all the generations past and future, who have loved and cared for the ground I was raised on.  Thanks to them, I have a conscience.  Respect for hard work and an unwavering love for the land.  I'm proud to farm.
Top: Nordstrom Rack (more here) |  Denim: Jessica Simpson (similar here)  |  Boots: Aldo (similar here)  |  Earrings: Marc Jacobs
Harvest is good for the soul.
xoxo.  a